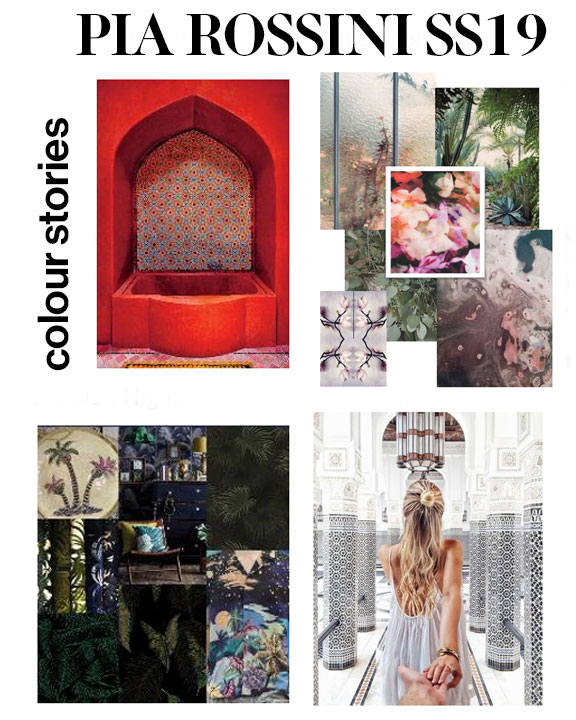 Come with us and take a step into the minds of the Pia Rossini design team. We speak with designer and buyer for the brand, Kirsty Roy, to find out more about the inspiration behind this years Spring and Summer collections.
Florals

Heavy Patterns

Pink Tones
Spring always has an air of romance and what's more romantic than being surrounded by beautiful blooms? This trend takes inspiration from botanical gardens, not only from flowers but also from the ambiance. "When creating our first Spring collection, a floral trend was pretty much essential. We were also certain that the prints should lean more on the bold side, rather than the typical spring florals that can sometimes look wishy washy. My favourite piece here would be the Santana Blazer as I love the combination of a strong, structured shape meeting a feminine, yet bold print." Kirsty.
Contrasting Tonal Colours

Heavy Patterns

Relaxed Feel
The unique and usually spectacular interior design of Morocco is the inspiration behind this trend. The intricate tile mosaics of Hammam spas have been inspiring our interior décor for years. Apply the shapes and patterns to apparel and you get something totally individual. "When we travelled to Casablanca, we were awe-struck by the mosaics and unique patterns round ever corner. We wanted this trend to reflect how unique the Moroccan style is as well as the incredible feeling of visiting the Moroccan baths." Kirsty.
Red Tones

Gold/Mustard Undertones

Embroidery

Bright Colours
Taking further inspiration from Morocco, we travelled into traditional Souks and spice markets. Here, colours are bright and bold. "We wanted this trend to be made up of eye-catching pieces that steal the show. Not only do the bright colours and prints bring a smile to my face, but the soft textures too. My favourite piece here, would definitely be the Virginia top. It has gorgeous sleeves and collar and that print speaks for itself." Kirsty.
Dark Tones

Midnight Florals

Tropical Prints

Soft Textures
Continuing with the Moroccan theme, this trend is full of gorgeous dark tones in floral and tropical prints. This trend also oozes comfort with soft fabrics that are flowy and easy to wear. "Comfort was a big part of this trend, but it also had to be striking to keep in line with our style at Pia Rossini. The Breeze range is by far my favourite in this trend. It's just so unique and anything tropical print is fine by me." Kirsty.
We are totally in love with this seasons trends which all offer a unique, romantic style full of staple pieces with a Pia twist.  Click below to shop our entire Spring/Summer 2019 clothing range…