Holiday Destinations on Your Doorstep!
I don't know about you, but we have been getting rather fed up reading travel blogs filled with totally epic scenes, but completely unaffordable! Yes, it would be great to swim with Sharks in the Bahamas, fly a hot air balloon over the Sahara Desert, but to most these are mosre bucket list holidays as opposed to your average summer get-away. Realistically, when you get paid a basic wage, have a mortgage and two kids all you want is somewhere easy to get to, entertaining and relaxing.
So, that being said, we looked a little closer to home and realised there are so many amazing places that most of us have longed to see, but have quite often put a Teletext holiday to Spain ahead of them. The more we researched the more we asked ourselves 'why haven't I been there?'. This our guide to summer holidays that get ten out of ten for experience and affordability right on our doorstep.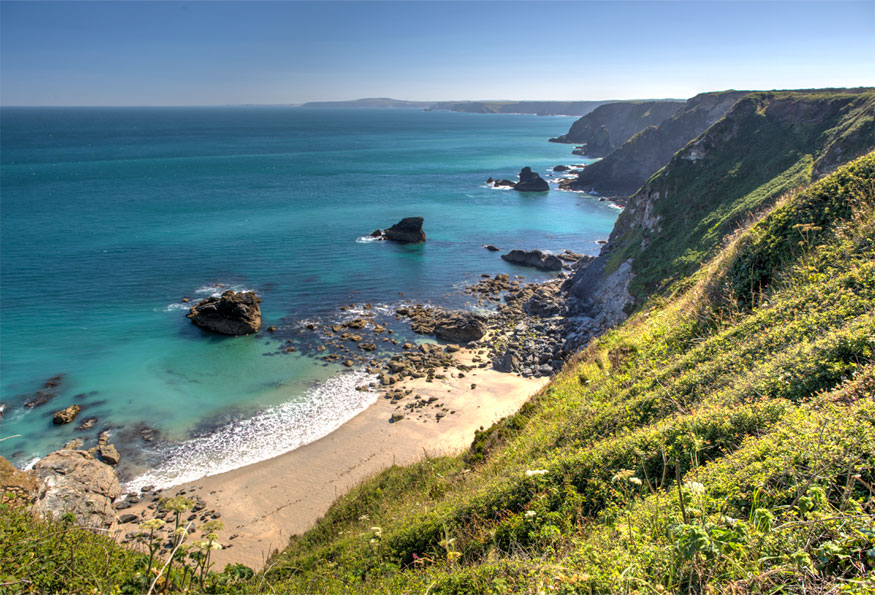 Image taken from Cornwall Beaches- https://www.cornwall-beaches.co.uk/north-coast/fishing-cove.htm
This isn't a joke! When there is somewhere as spectacular as Cornwall on your doorstep why would you venture any further? Sandy beaches, Scenic views, the weather and of course Cornish pasties! Cornwall has some pretty awesome attractions and now made even more prevalent by the TV series, Poldark. It's hard not to Google 'Cornwall beaches' after watching the show and you should do it! The views do not disappoint. Coined the 'Cornish Rivera' the south coast has a few hundred beaches to check out with picturesque little fishing villages dotted throughout. Newquay being one of the most popular destinations for tourists, known for its picturesque views, good weather and surfing. Or head to Padstow and check out one of Rick stein's four restaurants in the town and its popular cycle trails. You can get a very reasonable priced Air BnB in all locations throughout Cornwall but it's also a great place to camp if you fancy adding a bit of adventure toy our trip.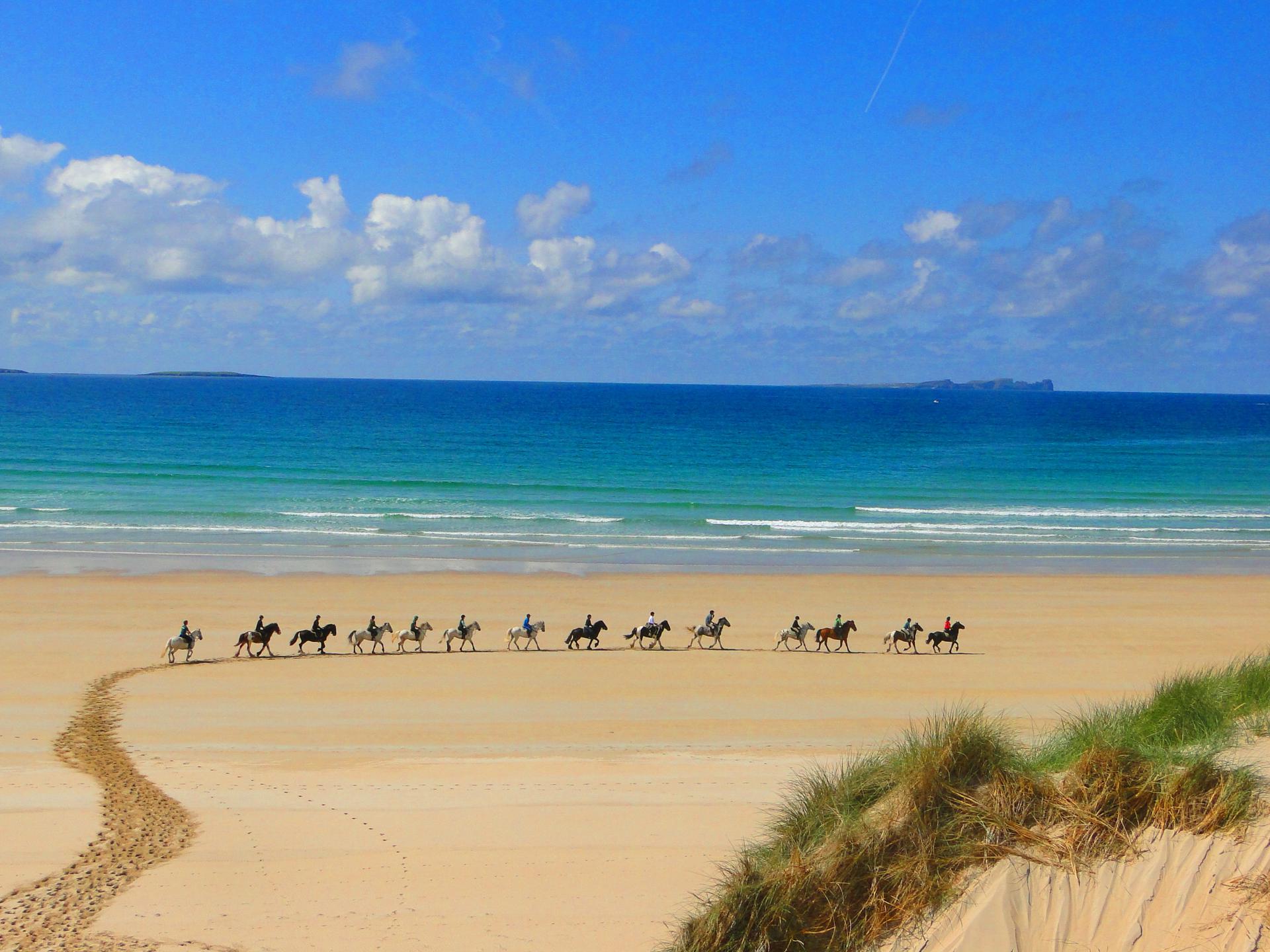 Picture taken from Dunfanaghy Stables- http://www.ehi.ie/center/dunfanaghy/
Donegal is at the very North Western Tip of Ireland. With incredible views of the Atlantic Ocean, the wild Atlantic Way is the most popular tourist attraction in the region. Driving it you can't help but feel utterly relaxed and as though you are truly getting away from it all. Lots of scenic attractions and beaches take the fore in Donegal, however be warned a dip in the Atlantic Ocean can take your breath away on even the sunniest of days. Refreshing! The weather can be a bit hit or miss, but Donegal is definitely about feeling cosy and eating lots of good grub. On rainy days the whole family is welcome in the pub where you will find local musicians and be able to join in cheering on the local's favourite in a sports match. There's a greats sense of community and togetherness in any of the towns, however we recommend Downings, Dunfanaghy or Creeslough for the full package.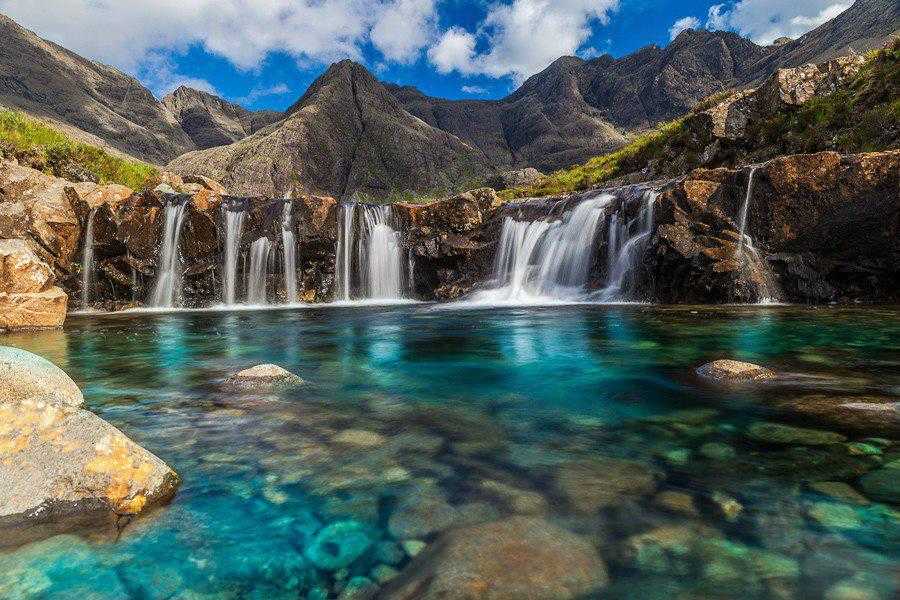 Image taken from Tripoto- https://www.tripoto.com/trip/mystical-fairy-pools-565f11d27da04
Scotland is hardly the first place that springs to mind when you think of summer holidays, however the Isle of Skye is the ultimate get-away without really having venture far. It's on a completely separate Island, but connected by a bridge to Scotland's northwest coast so no ferry fees! One of the most picturesque places in the UK, its top attractions are natural wonders of scenery and landscapes. The Fairy Pools in Glenbrittle are something that need to be seen to be believed, beautiful cascading waterfalls which appear blue and green in colour. You can take a dip in the cool pools if you're brave enough or just get an epic Instagram worthy shot of some natural beauty. Neist Point is the most westerly point of Skye. Nestled on this breath-taking cliff edge is a little light-house that has been there since 1909. The list could go on, and that's saying something for this Island that is only 50 miles long.
There you have it, three amazing holiday destinations that are easy to get to and will save pennies whilst also offering unforgettable memories. Now, all you need to do is pack you bags…check out our holiday clothing now and enjoy 10% off with discount code WELCOME10. Don't say we never give you anything!